Guide to building a public product roadmap
Building a public product roadmap? Learn how to build one, what to include in public roadmap, and some examples you can use.

Karthik Kamalakannan / 09 August, 2023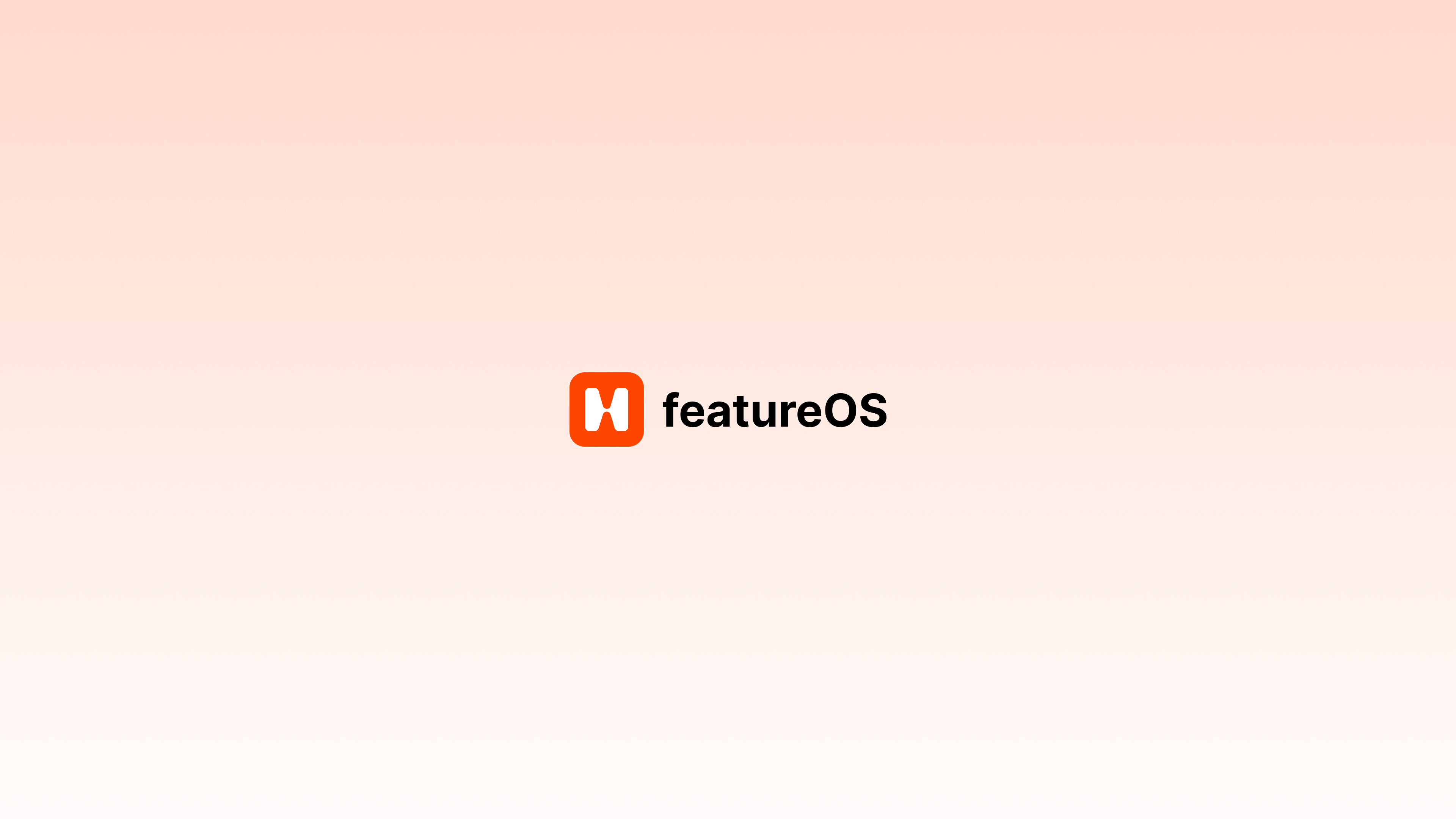 Looking to publish your product's roadmap to public, and you need some help in that? This is your place. A definitive guide to know everything you need to know about planning, creating, and publishing product roadmap using a product roadmap software. We have covered (and constantly updating) everything from how to plan, to how to distribute your product roadmap. This guide answers all your questions about product roadmap software and help you with useful links and resources that you can use as a product manager.
What you need to know
Now more than ever, it is important that you are transparent with your customers about what you are working on. Sharing about the new updates to your product helps gain trust from your users and other stakeholders in a simple roadmap portal that you can publish using a product roadmap software. Getting to know almost everything about public product roadmap for your SaaS product can provide immense value across your business units.
Product roadmap software is a new and unique category of software that adds instant value for SaaS product managers. Now, let us talk about what a product roadmap software is, what is product roadmap software used for, the benefits of product roadmap software whilst other solutions, and other useful information.
What is a product roadmap?
A product roadmap is a document or web portal that lays out the product's development plan, progress and status in a particular period of time.
A product roadmap focuses on three major aspects of the product:
What has been shipped recently
What is being worked on currently
What is being planned to be shipped
Here is an example of how a product roadmap would look like when published.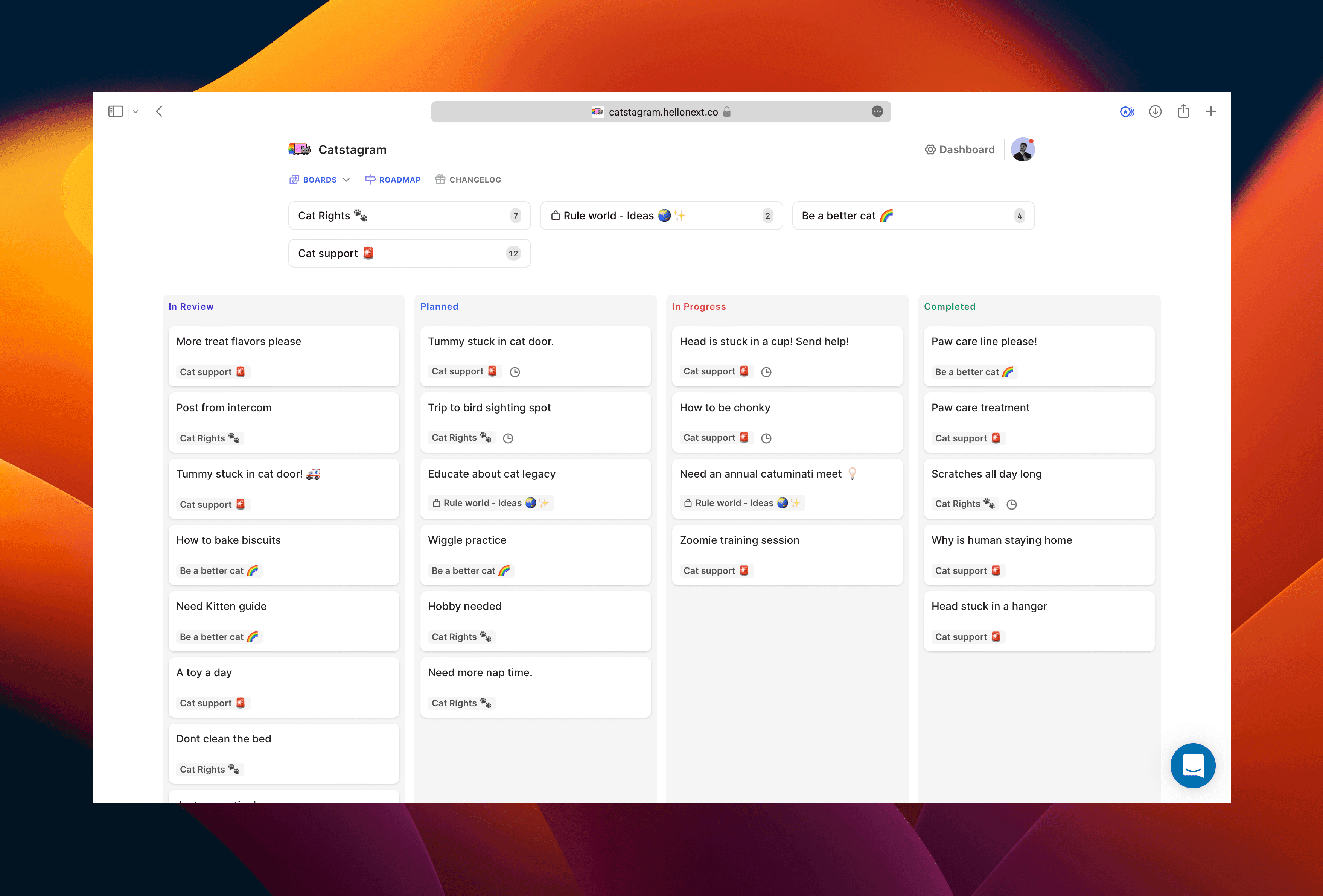 What are the types of product roadmap?
The "type" of product roadmap is primary defined by access levels - who can see what information of the product roadmap. Based on this, there are two types of product roadmaps:
Private Roadmap → Where the roadmap and the status of the features in the roadmap are shared only with a team or with a specific set of customers the product team chooses.
Public Roadmap → Where the product roadmap is accessible to everyone via a web portal.
How does an end-user use product roadmap?
A product roadmap that has been shared with a user allows them to voice out their views about the progress the product team is making. This helps quickly create a sense of transparency between product team and the user.
Optionally, a user can also vote on features when giving feedback on the features listed on the product roadmap.
Why you need product roadmap tool?
It is increasingly becoming a common best practice among SaaS product teams to share their product roadmap with their customers. This practice of sharing product roadmap using a product roadmap tool has started playing a crucial part in fast-growing SaaS startups, where gaining customer trust, and retaining them is an important business metric.
Gain user trust
Let's assume that you are using a piece of software, and you are paying for it. Wouldn't it be great to know what more features or improvements are coming up for the service you are paying? At some point, your trust with the product team who is sharing their product roadmap grows, since you know that there is a team who is working to get more value for the money you are paying for the product.
Gaining user trust is one of the top reasons to share a product roadmap. This is made super simple when using a product roadmap tool like featureOS.
Improve your product faster
Since your customers are giving you feedback almost in real-time for the features you are working on, it makes it all the more simple and easy for you to decide what you need to focus on. More importantly, you exactly know the impact a feature would have when you make a decision driven by data that you gain from product roadmap tool.
Accountability increases
When sharing a public product roadmap with your customers, you are now just wanting feedback, but you are actually committing to something that your users now start expecting. Once published, you are now accountable to ship the feature or improvement to your product.
Transparency between product team & customers
Since the product roadmap is a bridge between your product team and your customers, your product team also understands the effort required to ship a feature to your customers. They feel directly accountable for the feature that has an impact on the customers.
How to build a product roadmap?
Wondering "how to create a great product roadmap"?. Creating a great product roadmap is very simple when you have clarity. Some of the product teams choose to use free tools like Trello, but Trello is not built for creating and sharing product roadmap - even though it is free.
Steps to create a product roadmap for SaaS products in less than 90 seconds:
Create a new board on featureOS
Make the board Public or Private (your preference)
Start typing your roadmap entries and their statuses
Share with your users
Opening up product roadmap to your users via a product roadmap tool gets you a lot of applause for the effort you are pouring in into the product. Above all, it helps you improve your product exponentially without doing any guesswork.
A public product roadmap helps you make data-informed decisions to iterate your product that has a direct positive impact on your users.
Why Trello is a terrible product roadmap software?
Trello is a task management tool built and run by Atlassian. The product is great when internal teams want to collaborate on tasks using a Kanban method. But there are a few companies who tried using Trello for creating and sharing product roadmap, but then migrated from Trello to featureOS to publish professional product roadmap.
Why is Trello a bad product roadmap tool?
Here are a few reasons:
Users cannot comment on posts
Need a Trello account to interact
No voting feature for features/cards
Integrations are bad/limited
Reduces interest in customers, due to friction while using Trello
What alternative to Trello for product roadmap?
featureOS is the #1 feedback management tool with product roadmap as a big feature. There has been an increase in migrations from Trello to professional product roadmap tool like featureOS for the past few years.
Where do managers create and share product roadmap?
A product roadmap tool is where product managers create, plan, and share product roadmap. The product roadmap tools helps visualize a roadmap with less effort, saving you hours worth of time.
What to look for in a product roadmap tool?
Choosing the right product roadmap tool is crucial. You want a tool that is incredibly stable to use, and also has the right amount of features that would save you time.
To make things easier for you, we have curated the list of things you need to check before signing up for a product roadmap tool:
Simple design → a simple design for your product roadmap that is appealing for your users, and makes it easy to understand is crucial. That is one of the biggest reasons why you need to choose a product roadmap tool that offers Kanban based roadmap columns view.
Saves you time → you need a tool that can save you time by handling the status of roadmap entries automatically when configured right. For example, hundreds of product managers integrate JIRA with featureOS to automatically update roadmap items' status depending on their JIRA epic status.
Highly configurable → make sure the product roadmap tool allows you to customize aspects of the roadmap when you need it. Some of the customizations to look for could be the column names, adding rich elements like images and such.
Examples of Public Product Roadmaps for SaaS products
1. Front app product roadmap
Front's founder, Mathilde published their first public product roadmap on Trello to have honest and transparent communication between them and their customers. Today, Front's public product roadmap has become one of the best examples of a product roadmap portal for SaaS companies.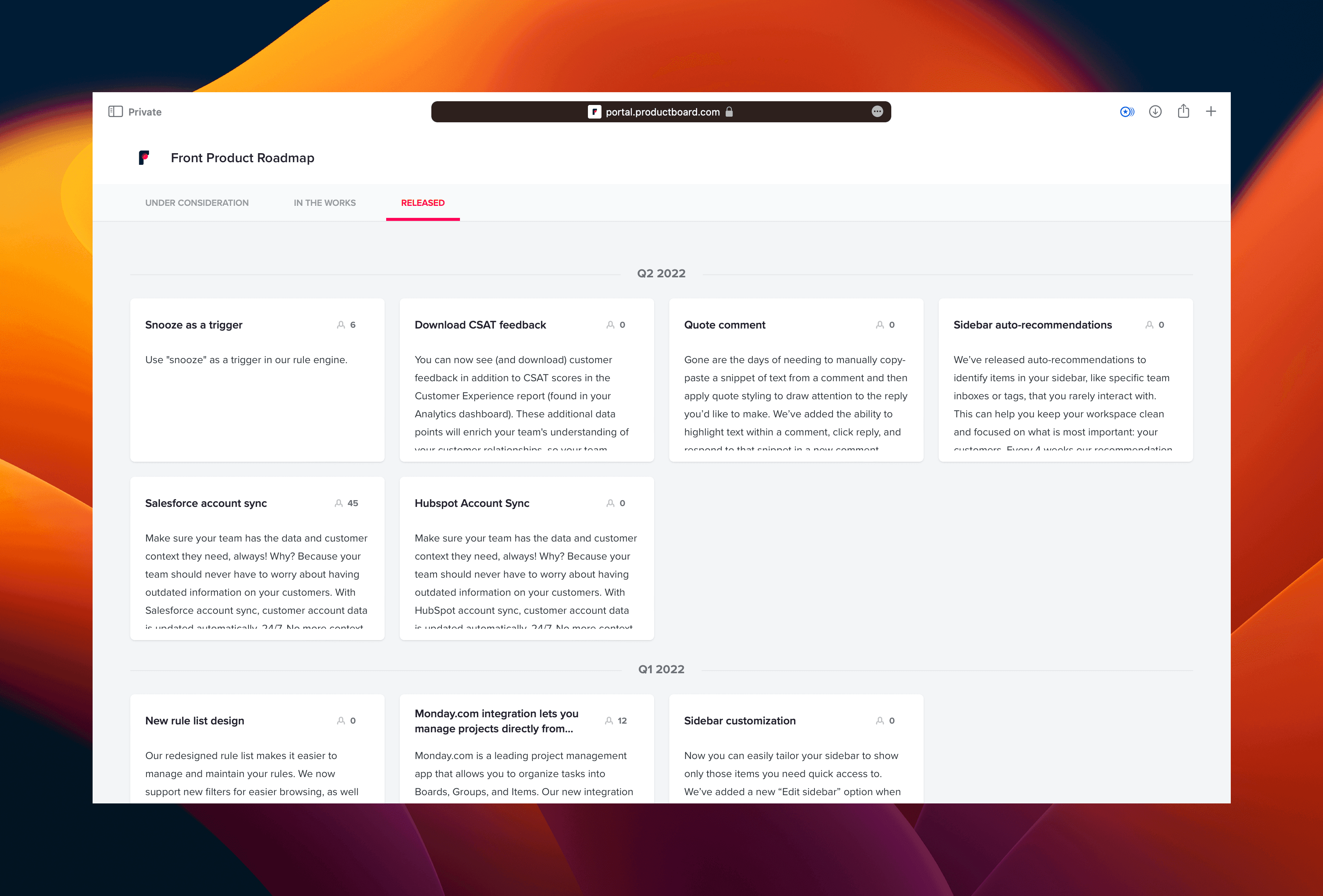 2. GitHub's public product roadmap
GitHub has one of the most extensive product roadmaps out there, that any SaaS product can take an example of. GitHub's product roadmap gives you a high level overview of what Microsoft is thinking about doing with GitHub, and also allows you to interact with the roadmap entries. Take a look at GitHub's product roadmap here ↗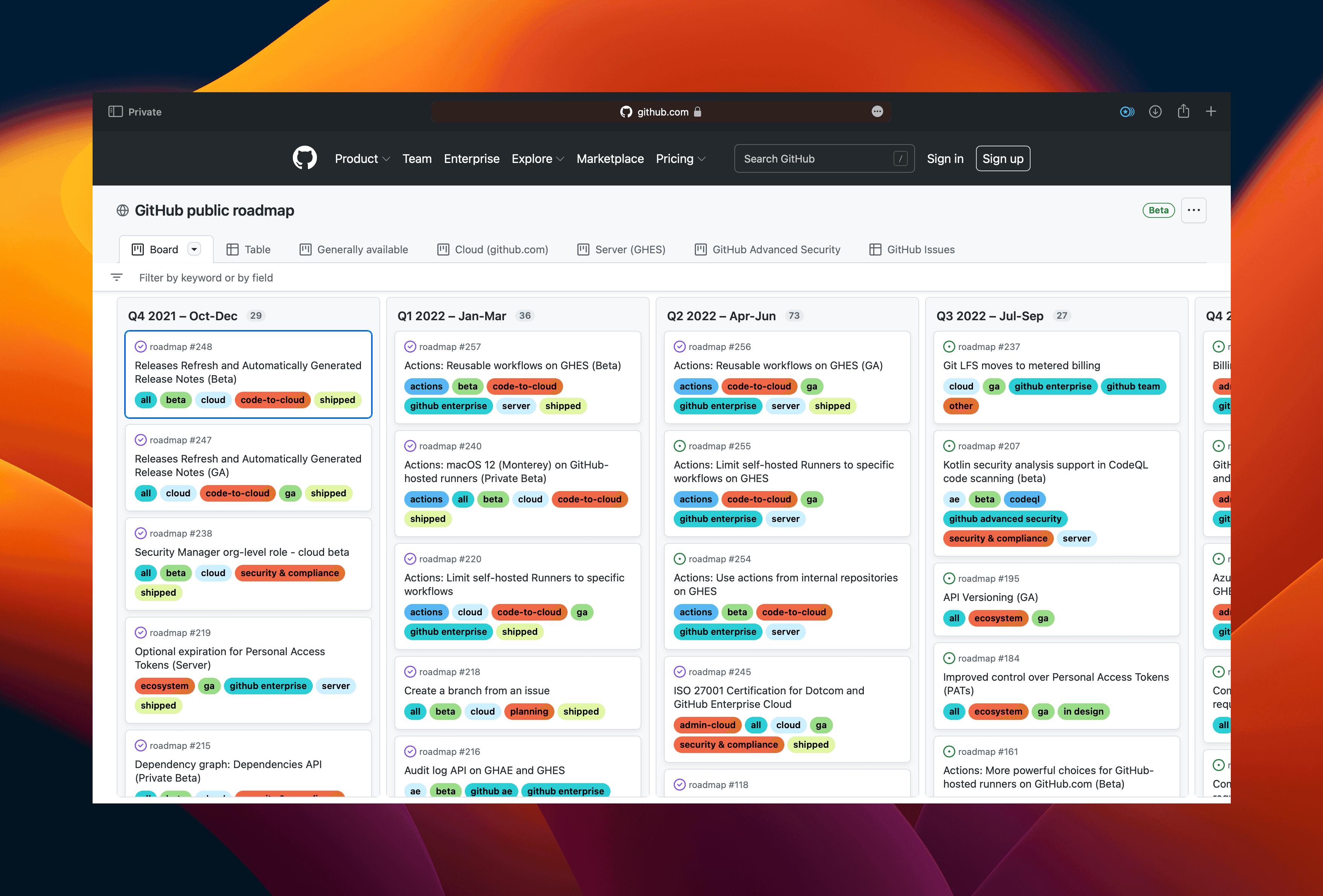 3. Remnote's product roadmap
Remnote is a very popular cross-platform writing tool who use alphaOS Feedback Boards to publish their product roadmap to their users.
With featureOS, Remnote is able to collect feedback from their customers about the features they are working on, and also, gain users' trust since their roadmap is public.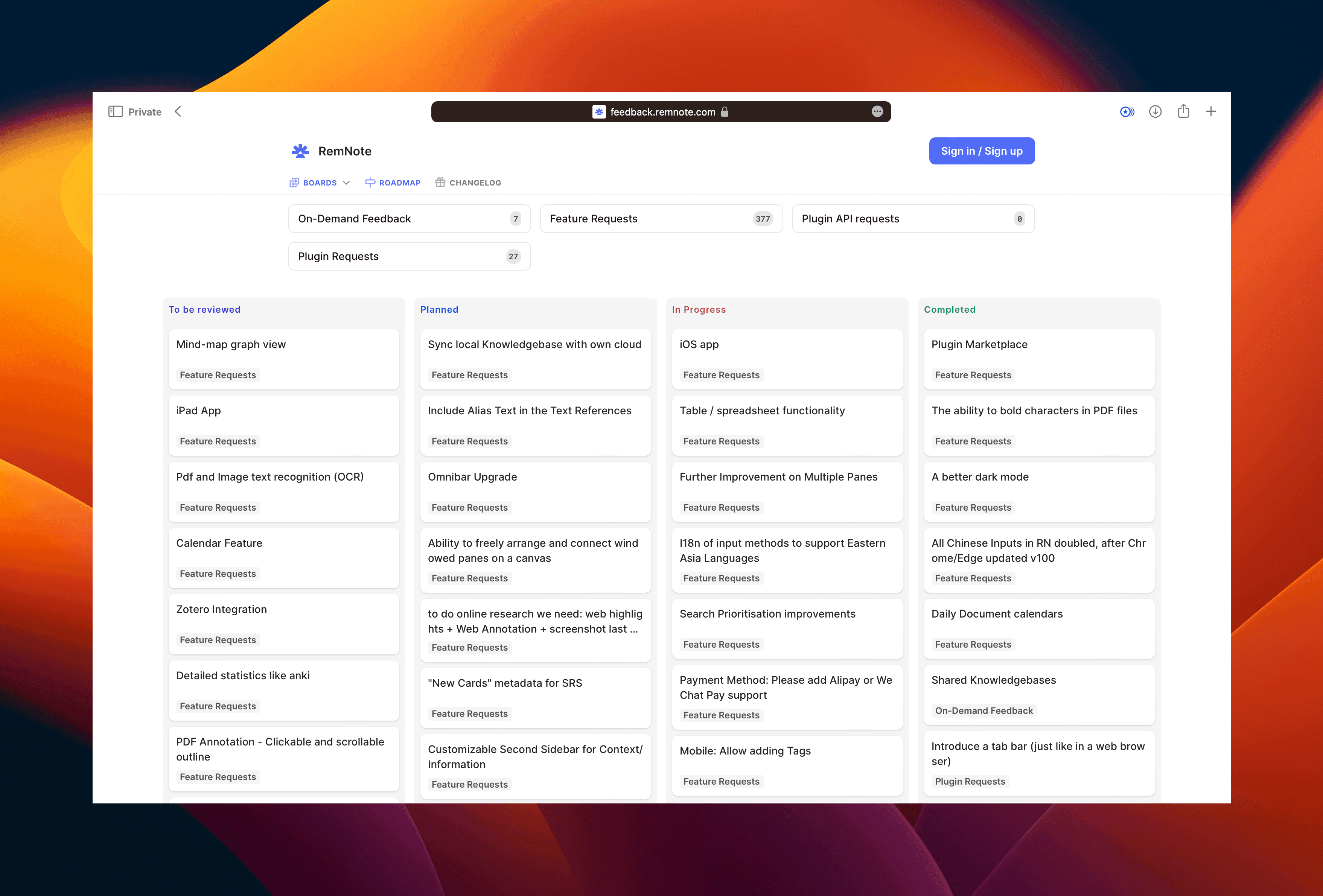 Create a product roadmap portal in the next 2 minutes with Feature Voting Boards
4. Slack's product roadmap
Slack, one of the most popular internal communication and instant messaging tool has their roadmap published to the public on Trello.
While this is good, it is only a one-way communication where Slack does not want to provide a space for users to list down what they want from Slack. Rather, this is Slack telling their users that this is what they are working on. Nothing more.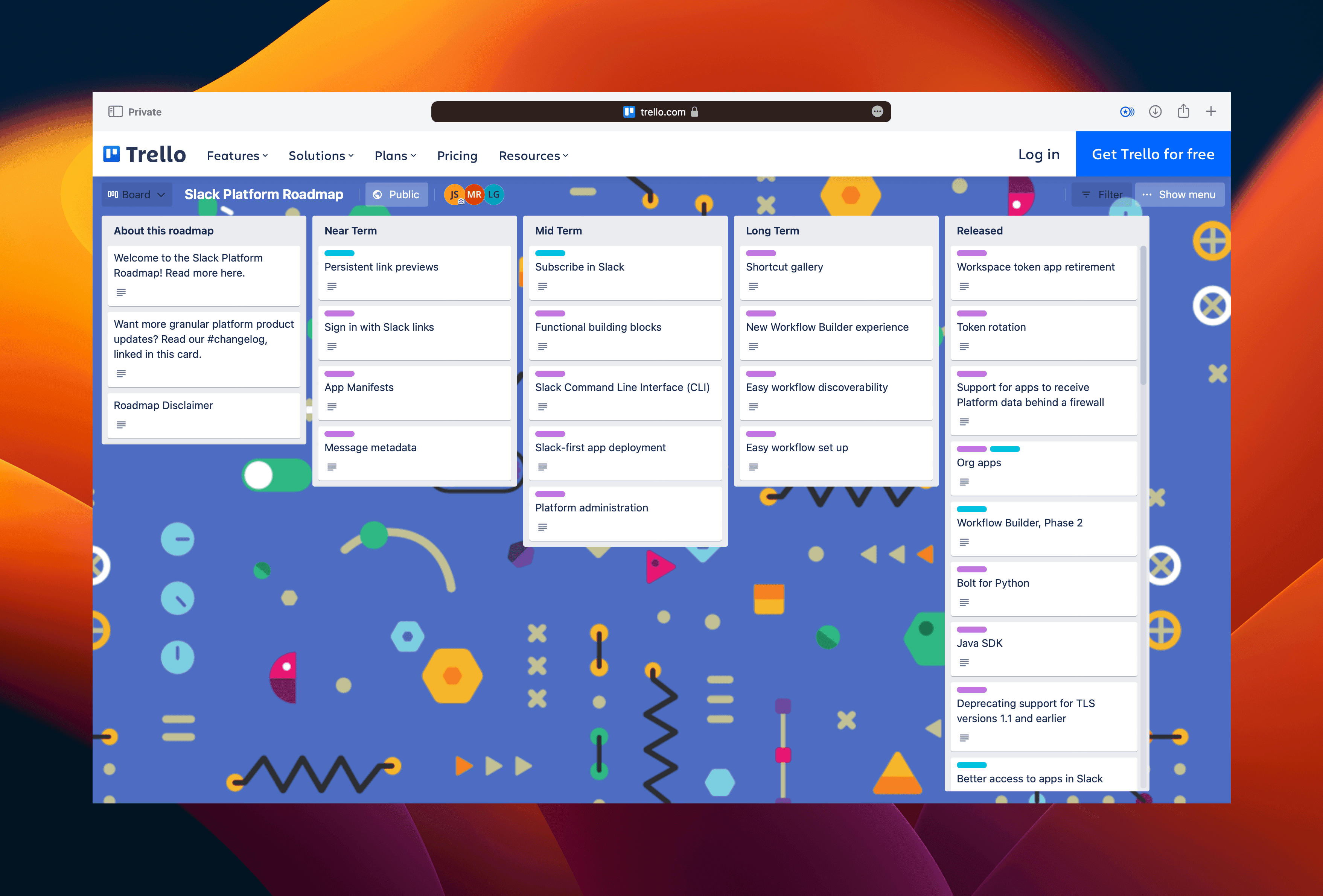 5. Rocket League Product Roadmap
Rocket League relies on featureOS to published their game's product roadmap to public. Rocket League uses featureOS to allows their games to upvote on features, and give instant feedback on the planned features for the game they are working on.
Opening up the public roadmap via alphaOS Feedback Boards has helped Rocket League improve trust among their users, and also to build the right features their users need.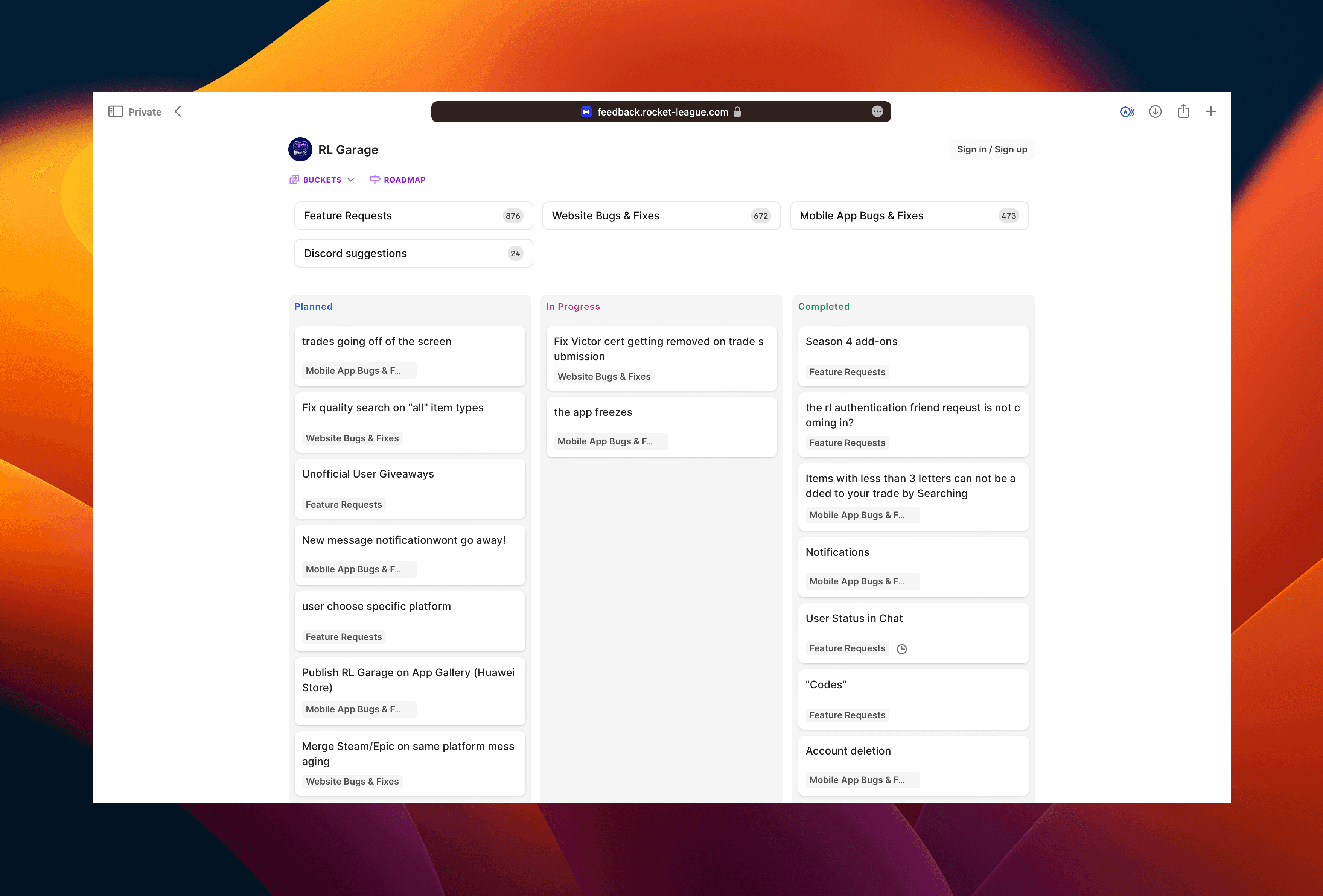 Create your own product roadmap portal for free. Try featureOS →
Who uses product roadmap tool in a SaaS company?
This is a tricky question to ask. Just to be generic for all the use-cases, let us split the companies based on the stage they are at:
Startups
Scale-ups
Enterprises
Who uses product roadmap tool in SaaS startups?
Typically, the founder or the product manager uses the product roadmap tool to publish their roadmap to their customers.
Publishing product roadmap allows the founders or the product managers to quickly get to product-market-fit stage helping them become a scale-up company.
Who uses product roadmap tool in SaaS scale-up companies?
Either the product manager, or the sales team uses product roadmap tool.
For product managers, a product roadmap tool helps them create transparency and trust between them and their customers.
For sales team, a product roadmap tool helps them close more deals by showing the amount of activity that are happening on a product roadmap, helping them gain trust from their potential leads.
Want to try the best product roadmap software?
featureOS is a cloud-based product roadmap software which helps SaaS product companies and product managers help plan, create, and share product roadmap with their customers. featureOS saves hours worth of effort every week while planning product roadmap, and you can take advantage of the same.
If you are looking for a good SaaS product roadmap software, featureOS is your platform of choice.
Last updated: December 4th, 2023 at 7:04:41 PM GMT+0