What is a Feedback Board? How to setup a Feedback Board?
Learn what is a feedback board for your SaaS product. How you can use feedback boards to improve customer engagement and retention.

Karthik Kamalakannan / 31 October, 2022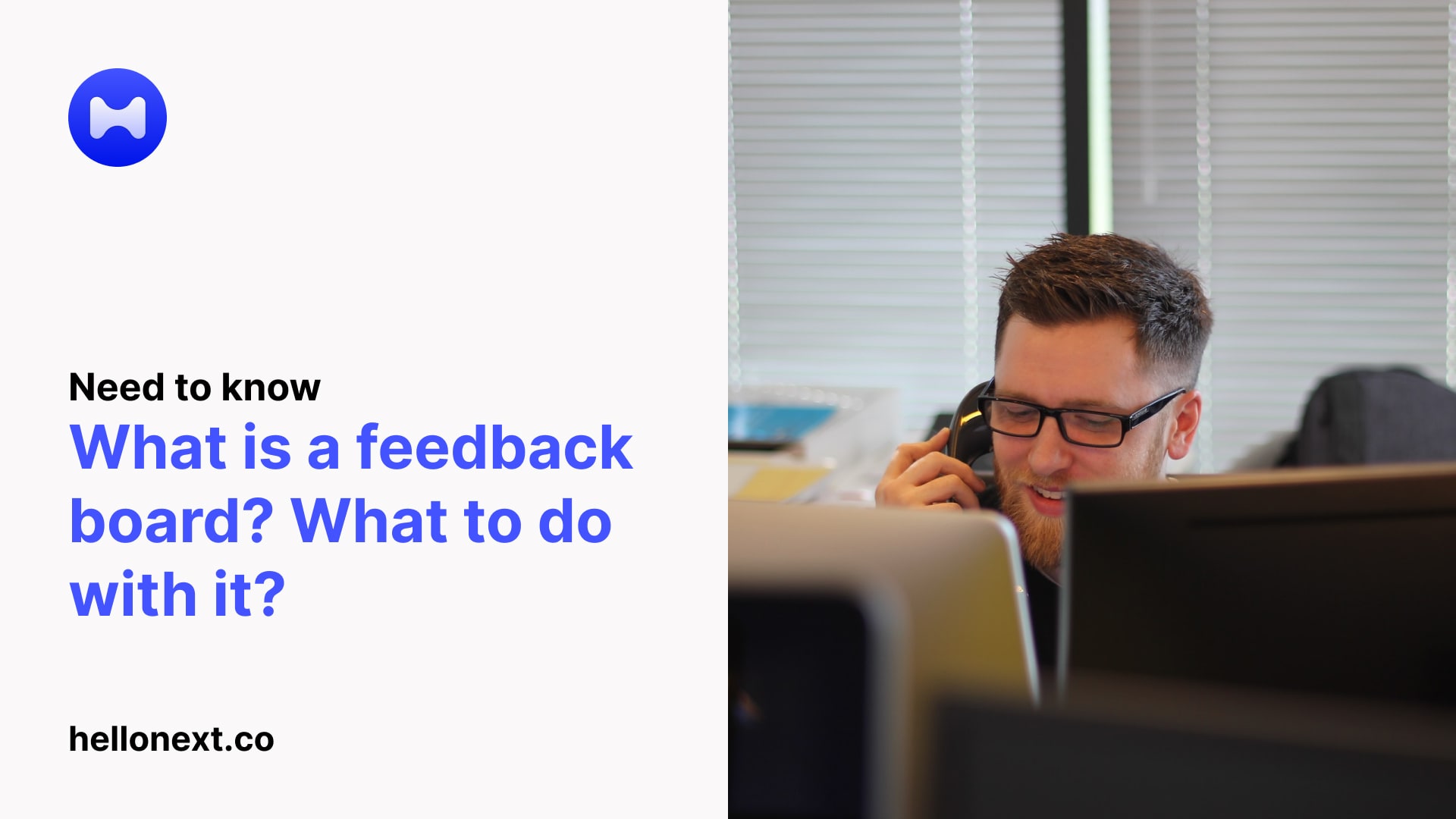 Table of contents
What is a feedback board?
A feedback board is a web portal that helps collect and organize feedback. Feedback boards can be internally within your team or publicly with your customers. The feedback boards can be used internally within the team or publicly with your customers.
When you want to create an internal repository of ideas from your team, feedback boards are the central place for all your new feature requests, product ideas and more. With the help of feedback boards, you get to make data driven decisions to build products since your team reasons out why an idea is worth building.
In situations where you might want to collect ideas from your product's customers, feedback boards come in handy. You can create a feedback portal with feedback board in seconds, share the URL with your customers, and watch the feedback coming in from your customers. With right awareness, your feedback board could become the one place your customers can refer to when they want to suggest new product ideas.
How does feedback boards work?
A feedback board works in a way that helps you centralize all your product feedback in one place. Feedback board is the central repository of new feature requests, bug reports, and support tickets. Modern feedback board tools has community developing features like upvoting on feedback, commenting on existing feedback, subscribing to feature requests and more.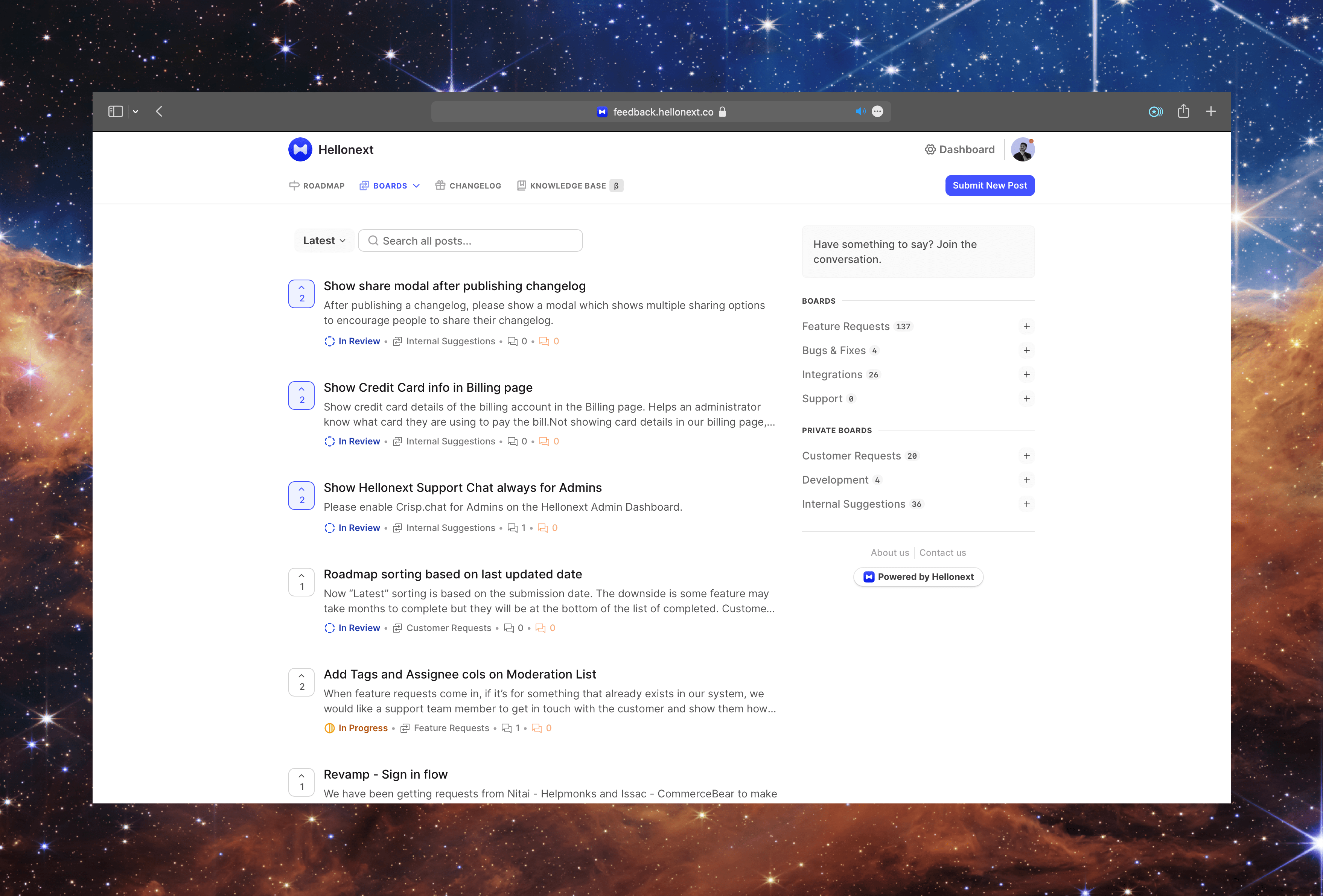 Today, some of the most successful products like Uber, use feedback boards as a way to engage their customers, and give them exclusive access to how their feedback is being worked on after they submit one. Since feedback boards come with features like statuses, comments, votes, and such, the entire feedback lifecycle process is now more transparent between the customer and the product teams.
Pro tip: Read Why SaaS Companies need to use Feature Request Tool
When to use a feedback board?
As soon as you launch your product is the right time to start using a feedback board. When you are new in the industry, and you want to quickly gain customer trust and build a community, feedback boards are the best tool you can rely on. If you have already launched, then you already have customers. When you have customers, it is important that you build a product with them included.
In short, a good time to start using a feedback board is now. The sooner you focus on keeping your customers engaged and happy, the better it is. Feedback boards are crucial when it comes to customer loyalty, engagement, and building a successful product that users love.
Benefits of using feedback boards for your product
Some of the biggest advantages of feedback boards is that it brings your team together, helping you build data-informed product roadmap, and creating a community of your customers. Besides this, there are so many more advantages of using a feedback board for your product.
Advantages of feedback boards
Centralize new feature requests, bug fixes, and internal suggestions in one place
Improve customer loyalty with transparency
Improve customer retention
Build product features with users' inputs
Improve new feature adoption rate
Create a loyal community of customers in one place
Publish internal product roadmap
What are the tools to setup feedback boards?
For you to be able to setup a feedback board portal for your product, you need a feedback management software tool that can help you do that quickly, with less effort.
Major features of user feedback board tools
Using a user feedback tool for your product could be the most important decision for your product's growth. When evaluating a user feedback tool to manage feedback boards, you are going to have to check for these features:
Private or public feedback boards
Invite-only feedback boards
Feedback analytics
Analyze feedback boards on posts
Embed feedback board inside your product
Collect internal feedback on your product
List of tools to setup feedback boards:
ProdPad
Canny.io
Try featureOS
With featureOS, you can centralize feedback, build product roadmap, publish new product announcements, and help with feature adoption via knowledge base. You can do all these, with less effort, high customer engagement, and save time every week. Start by creating your first feedback board for your product for free.
Last updated: December 5th, 2023 at 12:25:18 PM GMT+0