Compared: Top 12 Canny.io Alternatives for SaaS Products
Compare features and pricing of top 12 Canny.io alternative to gather customer feedback for your SaaS product.

Karthik Kamalakannan / 25 March, 2022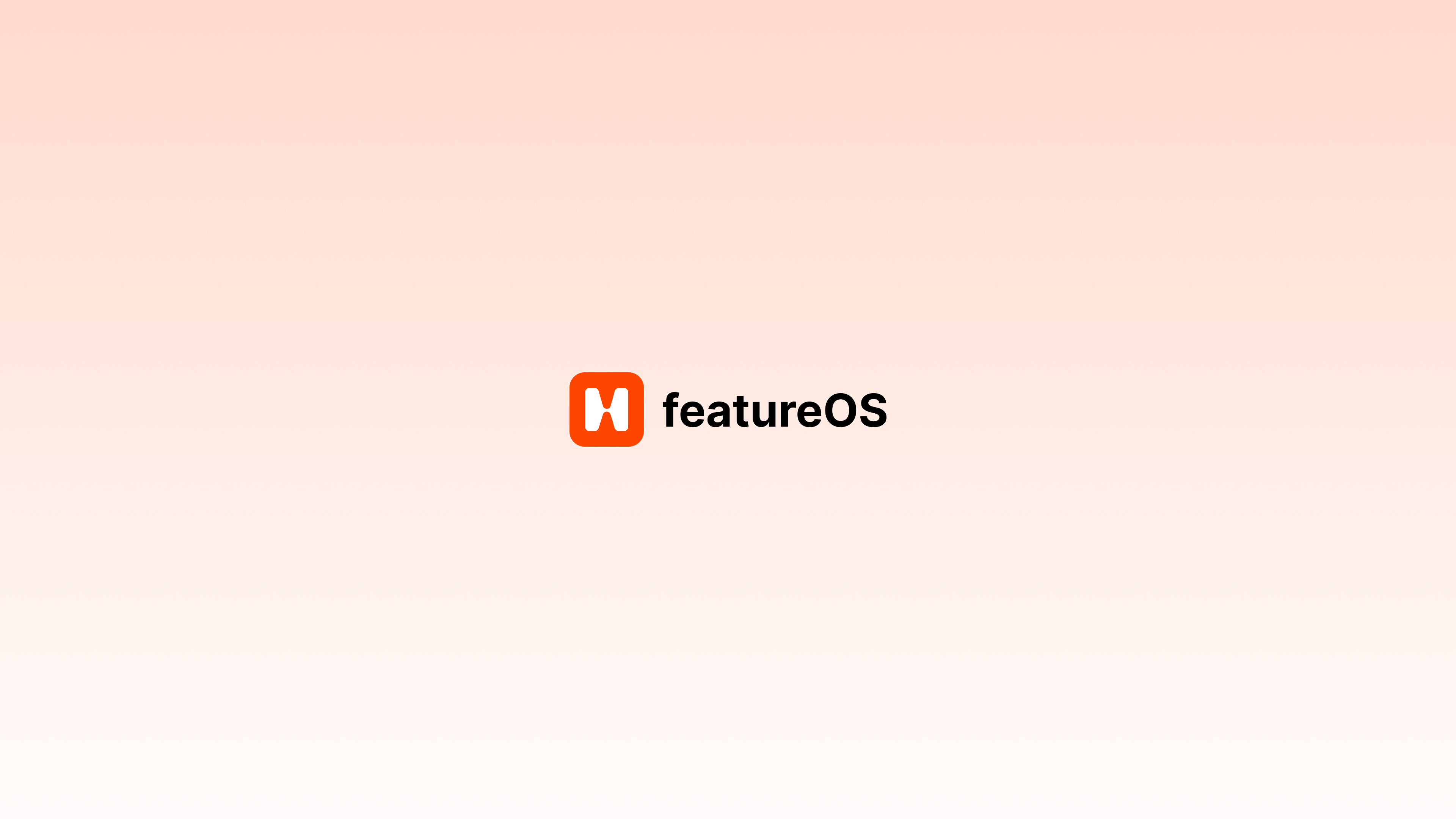 Canny.io Alternatives are tools that allow you to collect user feedback, build a product roadmap from the feedback, and publish changelog all in one single tool. Most importantly, apps like Canny.io should cost much lesser when compared to Canny io pricing of over $499/month ↗.
Recently, Canny.io has been under heavy criticism from their customers for increasing their pricing without prior warning and also giving no alternatives to their existing customers. This has pushed Canny.io customers to look for alternatives that provide much better value for their money than to use just an expensive tool like Canny with less feature set.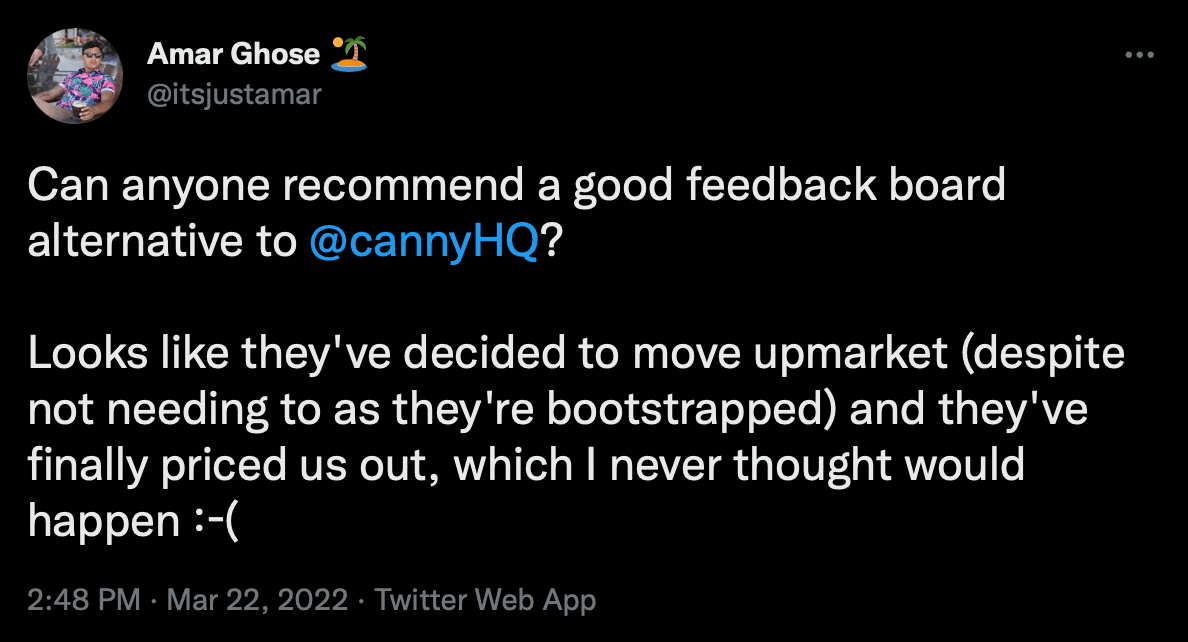 I have curated a list of great Canny.io alternatives for you to make the right choice for your SaaS product.
Why look for Canny.io Alternative?
Since the beginning of Canny, they have been notoriously known for not listening to their customers. One good example is the way they force their customers to place a "Powered by Canny.io" link on customers' portal to get traction for their product. Here's a quick review from their customer on Capterra ↗.

The second biggest reason is the way Canny.io left their customers to suffer by increasing their pricing from $50 to $400 in a day. Since Canny.io did not retain the same pricing for their existing customers, this pushed a lot of customers to move from Canny.io to some of the tools mentioned in this list below.
What to look out for in Canny.io Alternative?
While choosing an alternative to Canny.io, be sure to check for the following feature set. If you are an existing customer of Canny.io, this checklist helps you as well, since you won't lose any features when migrating from Canny.io to another tool like featureOS. The tools that I have listed below have the same features as Canny.io if not more.
You are probably looking for a tool that is rich in design, works super fast, and is designed specifically for SaaS products to get the best value for the time you spend on a product like this.
List of 12 Canny.io Alternatives
Whether you are looking for a better feature set or you want to use a tool with predictable cost per month, these are the best Canny.io alternatives you should try for your SaaS product.
1. featureOS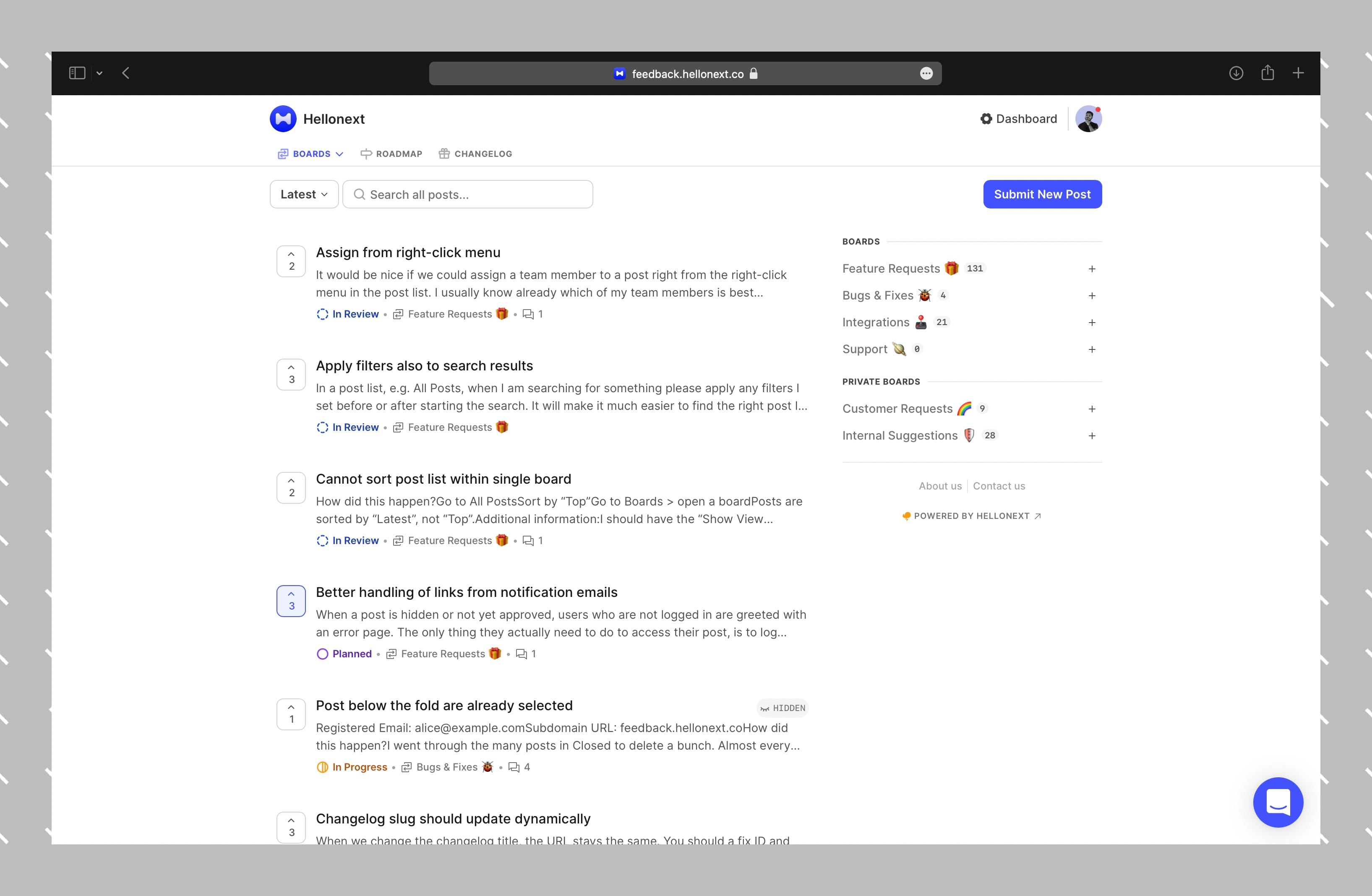 featureOS is a powerful user feedback management tool for SaaS companies with better features, design, and pricing than Canny.io. The dashboard is built for power users, and is the best Canny.io alternative for companies of any size. With featureOS, you can have your customers vote on ideas, check priority ratings, and much more to plan your product roadmap.
Features:
Private & public user feedback boards
Idea upvoting & priority ratings
New feature release notes
Widgets, embeds, & APIs
Beautiful design
Customizable product roadmap
Custom form templates
Choose featureOS if you want to: 'You want a powerful user feedback platform.', 'You want to integrate with your existing apps.', 'You want to collaborate with your team on user feedback.', 'You want better value to cost ratio.', 'You want to embed feedback touchpoints in different places.',
Pricing:
featureOS is free to try for 14-days on all plans. Post that, you can get value out of featureOS for just $19/month making it a great Canny.io alternative.
---
2. Pendo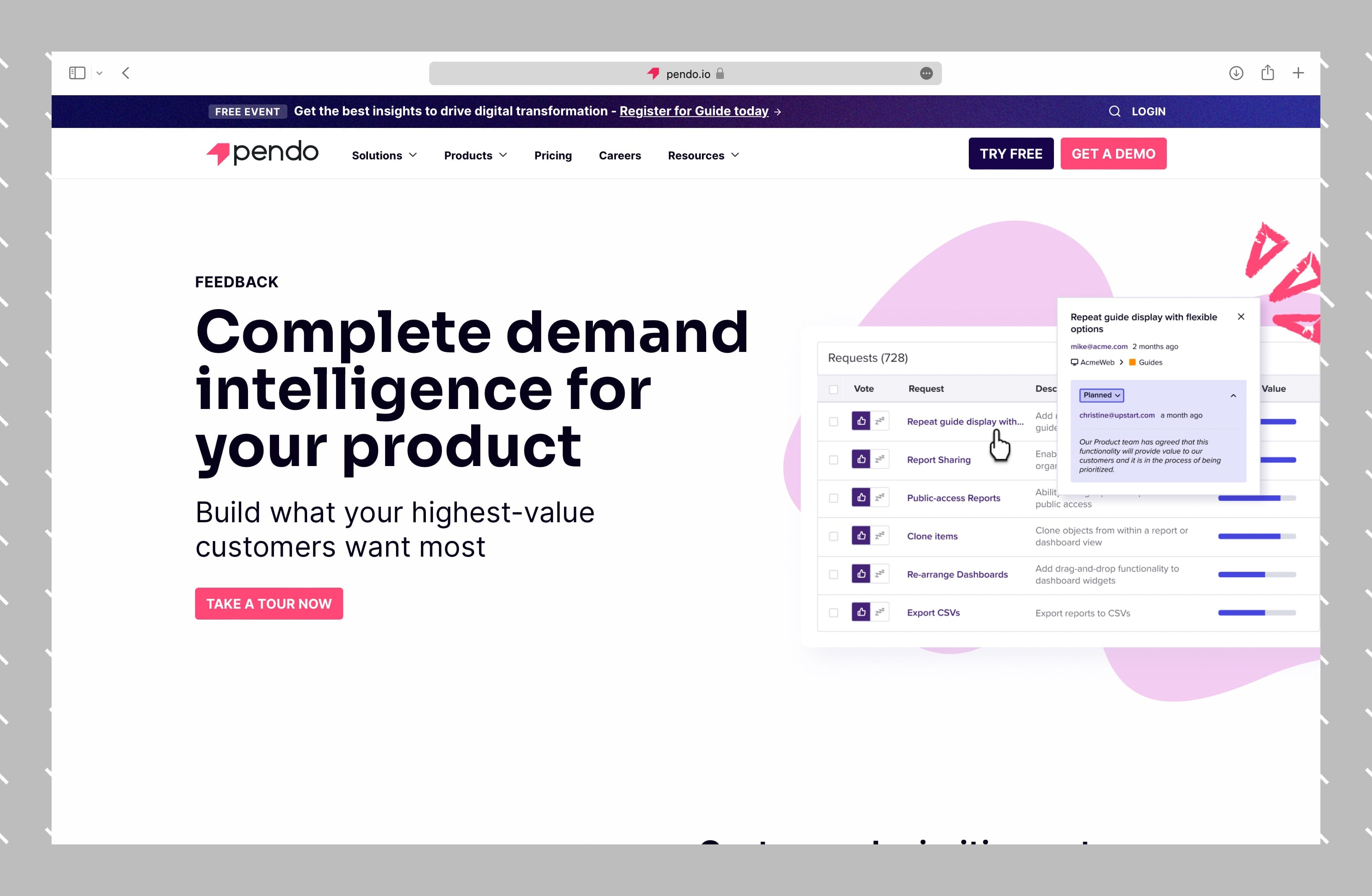 Pendo is for teams of large sizes with complex product development workflow. Pendo is slightly different from other Canny.io alternatives due to the way it works, their pricing, and the user interface. With Pendo, you get in-app guides, user feedback, analytics, workflows and much more. If you are in the lookout for a very focused user feedback tool, with roadmap and release notes features, you are better with other alternatives in this list.
Features:
In-app guides
Feedback Boards
Roadmapping
User onboarding workflows
Pricing:
Pendo is for the enterprise customers with multi-level product development workflows. They do not mention their pricing upfront. From my research, the Startup package costs over $12,000 per year with an additional $1500 for implementation.
---
3. Productboard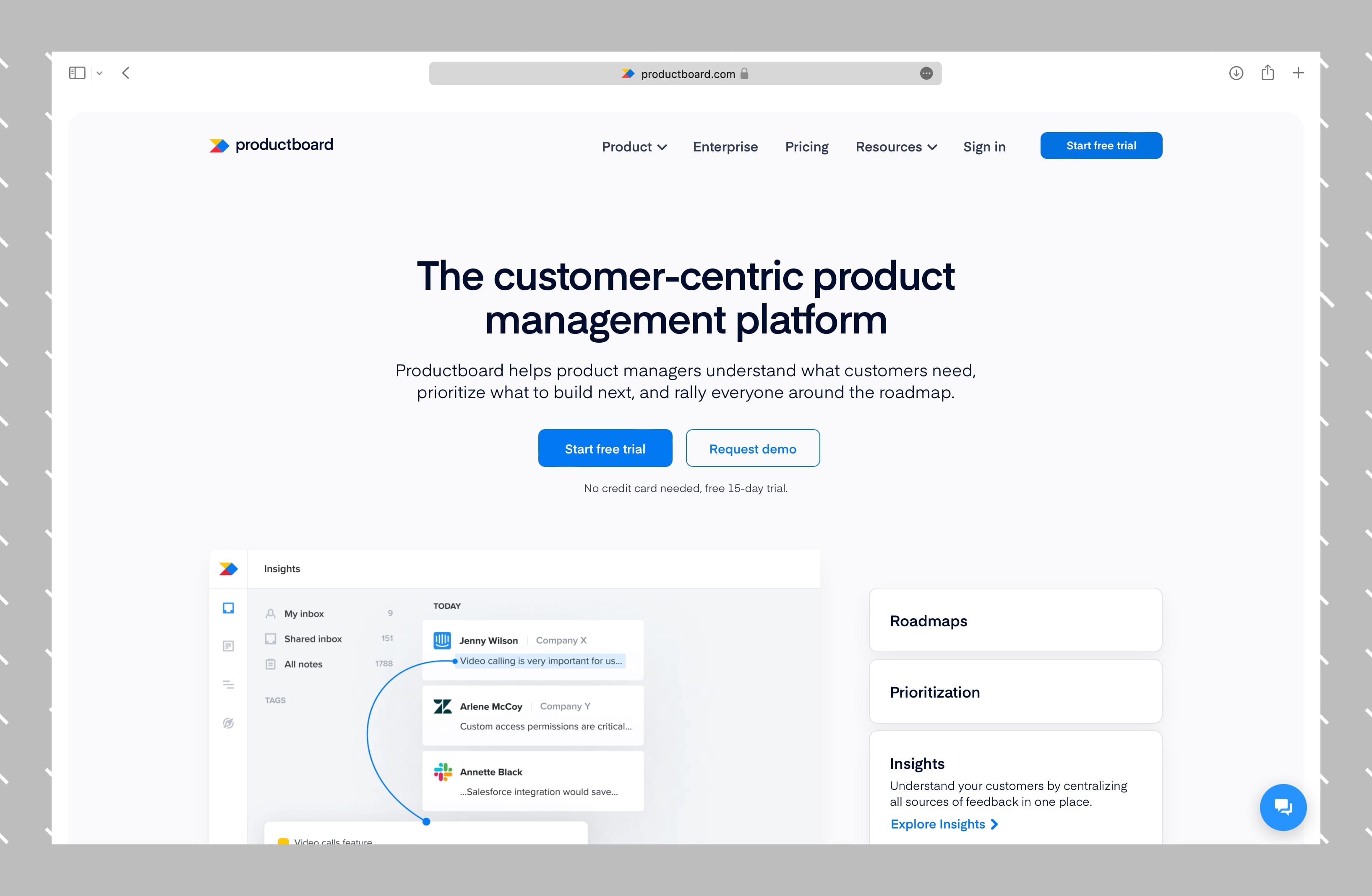 Productboard has been a good starting point for many managers who want to build a roadmap for their product. The difference is that with Productboard, you build the roadmap and then share it with their customers to vote. The biggest issue has been their complex interface and slow customer support.
Features:
Prioritization framework (Learn about COPE framework)
Publish Product Roadmap
Public feedback board
Multiple feedback boards for multiple use-cases
Pricing:
The basic plan of Productboard costs you $20 per user per month. This does not include features like custom domains and such. You can learn more about the pricing in our detailed Productboard Pricing Guide.
---
4. Nolt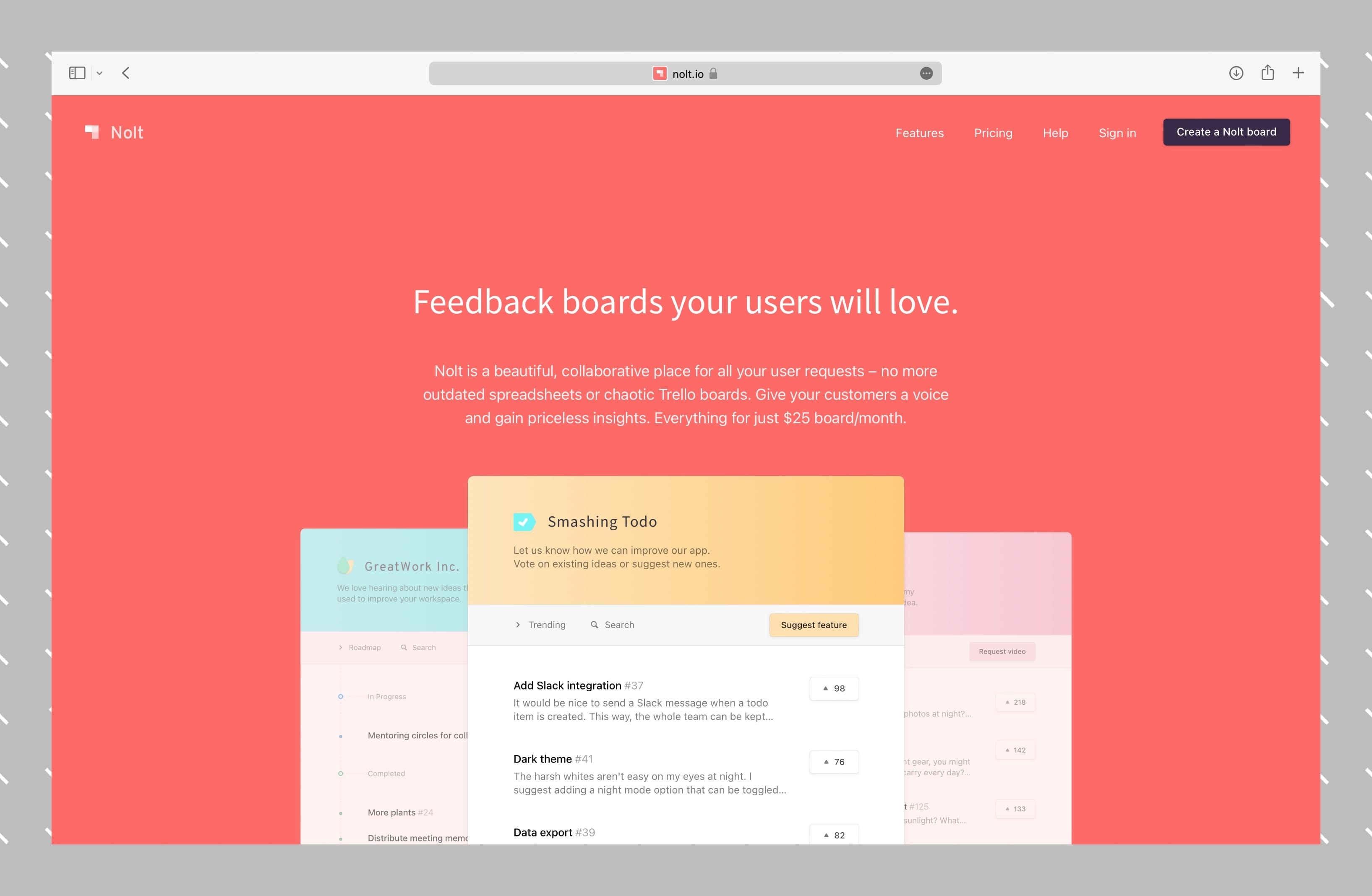 Nolt is a user feedback software focused only on the feedback boards. The software is simple to user for small product teams and is preferred mostly by indie developers.
Features:
Feedback boards
Custom domains
Embeds and widgets
Pricing:
Nolt is priced differently among all the other Canny.io alternatives. Nolt costs $25 per board per month.
---
5. Convas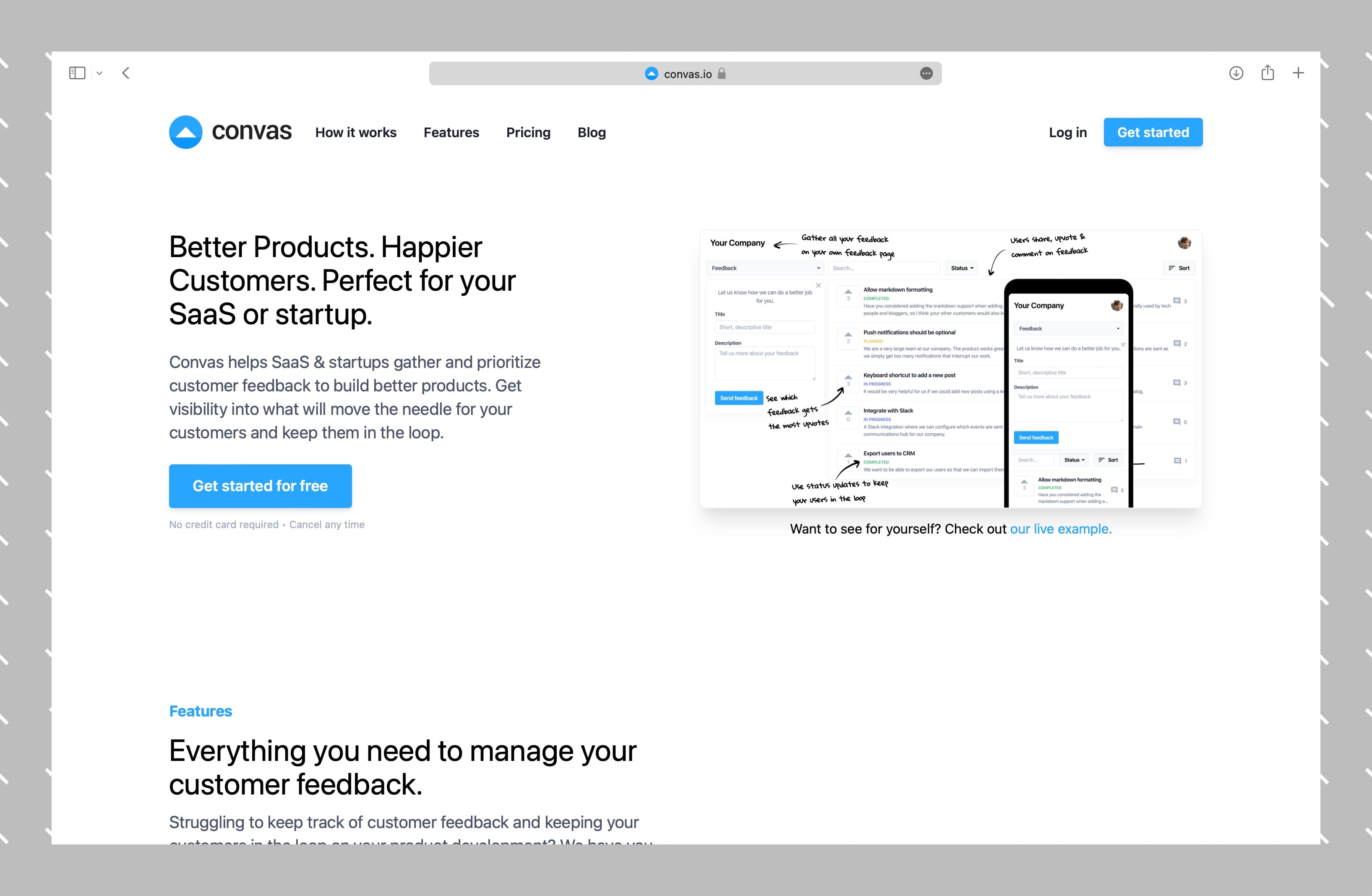 Convas is a new entrant in the market which is focused on gathering customer feedback via feedback boards.
Features:
Feedback pages
Product Roadmap
Widget
Pricing:
Convas starts at $15 per month for just 100 tracked users. Beyond which you will need to pay $150/month to take advantage of all other features.
---
6. Usersnap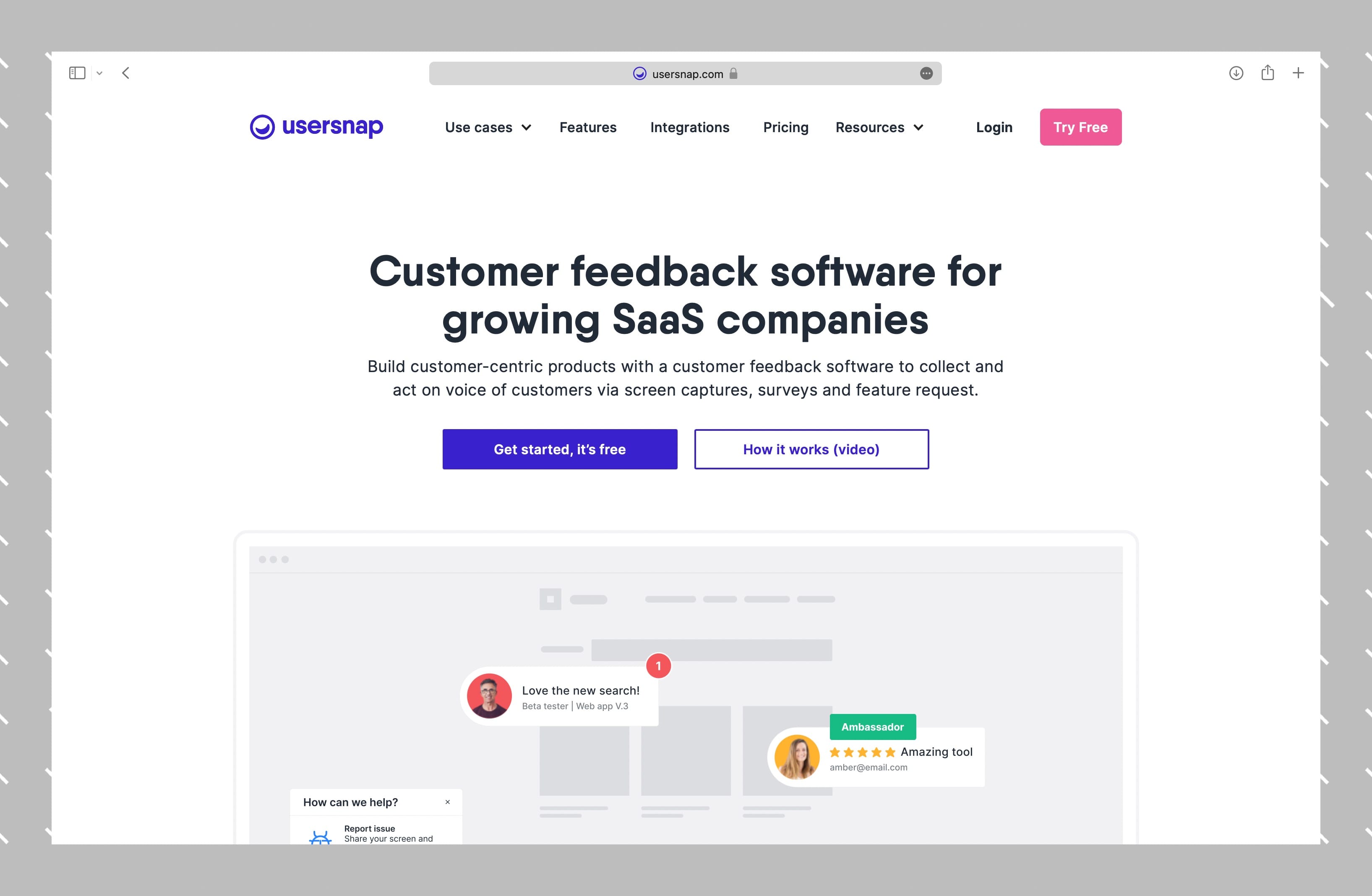 Usersnap is yet another Canny.io alternative for user feedback management. Usersnap is built for small SaaS products.
Features:
API based integration for apps
Statistics and analytics of user feedback
Product surveys
Video and screenshot captures
Pricing:
Usersnap pricing starts at $19 per month for two users and 1 widget. Once you exhaust this limit, you need to pay $99 per month to maintain your account.
---
7. Savio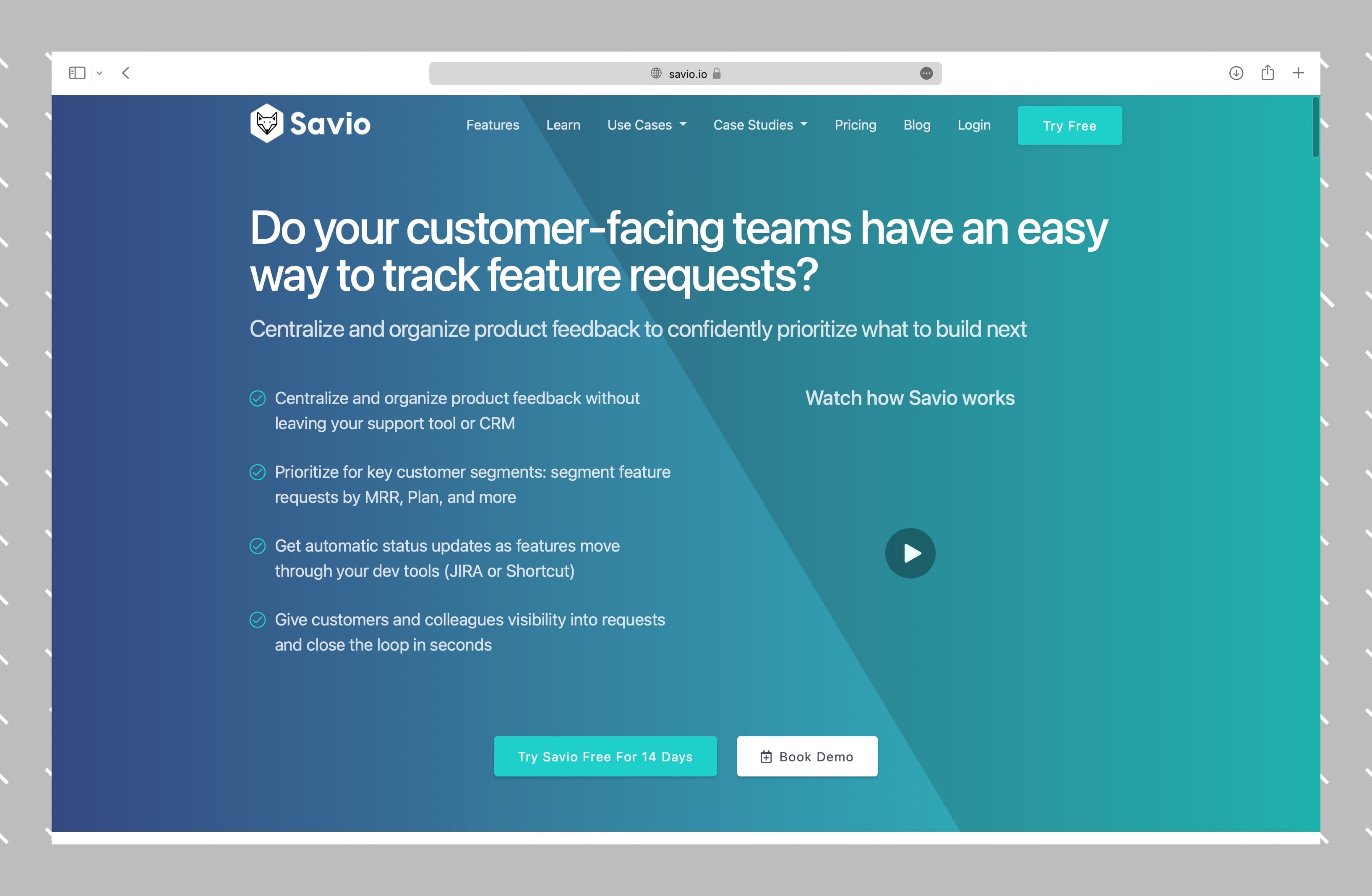 Savio.io is the alternative you need to consider if you need something cheap with simple features. It allows you to collect feedback from customers, embed feedback boards within your product and much more.
Features:
Collect and manage customer feedback from multiple sources
Notify users about status updates
Publish changelog and update users
Pricing:
Savio comes with a free plan which gives you only one user. You can get started with Savio for $25/month for 3 users.
---
8. Upvoty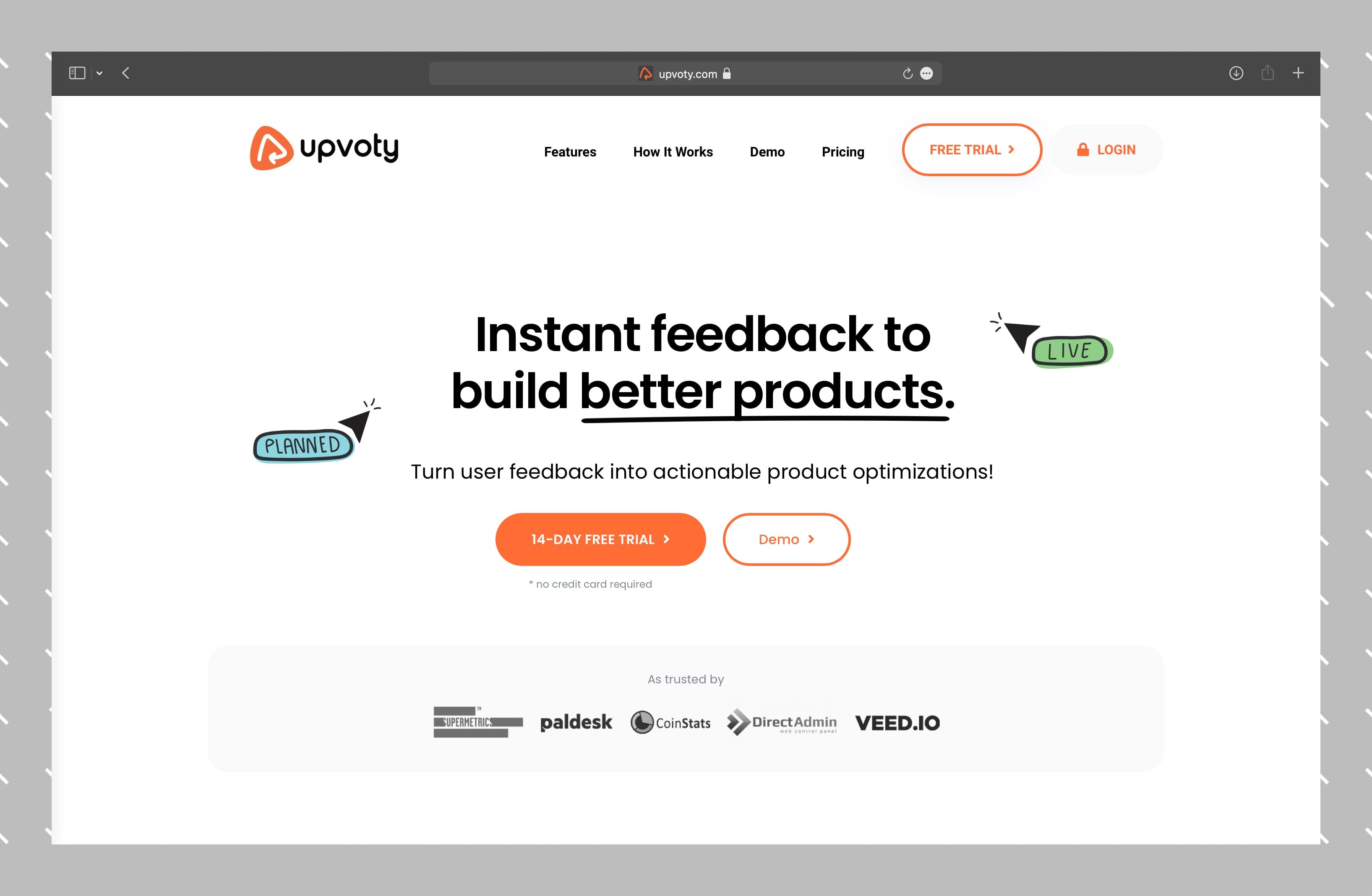 Upvoty is a feature request management tool with features like feedback boards, roadmap, and changelog. The app is known to have a simple user interface.
Features:
Feedback boards
Customizable styling
Widgets & product roadmap
Pricing:
Upvoty's pricing starts at $15/month for a limited 1 board, and just 150 tracked users. After you exhaust this limit, you need to upgrade to their $35 per month plan.
---
9. UserVoice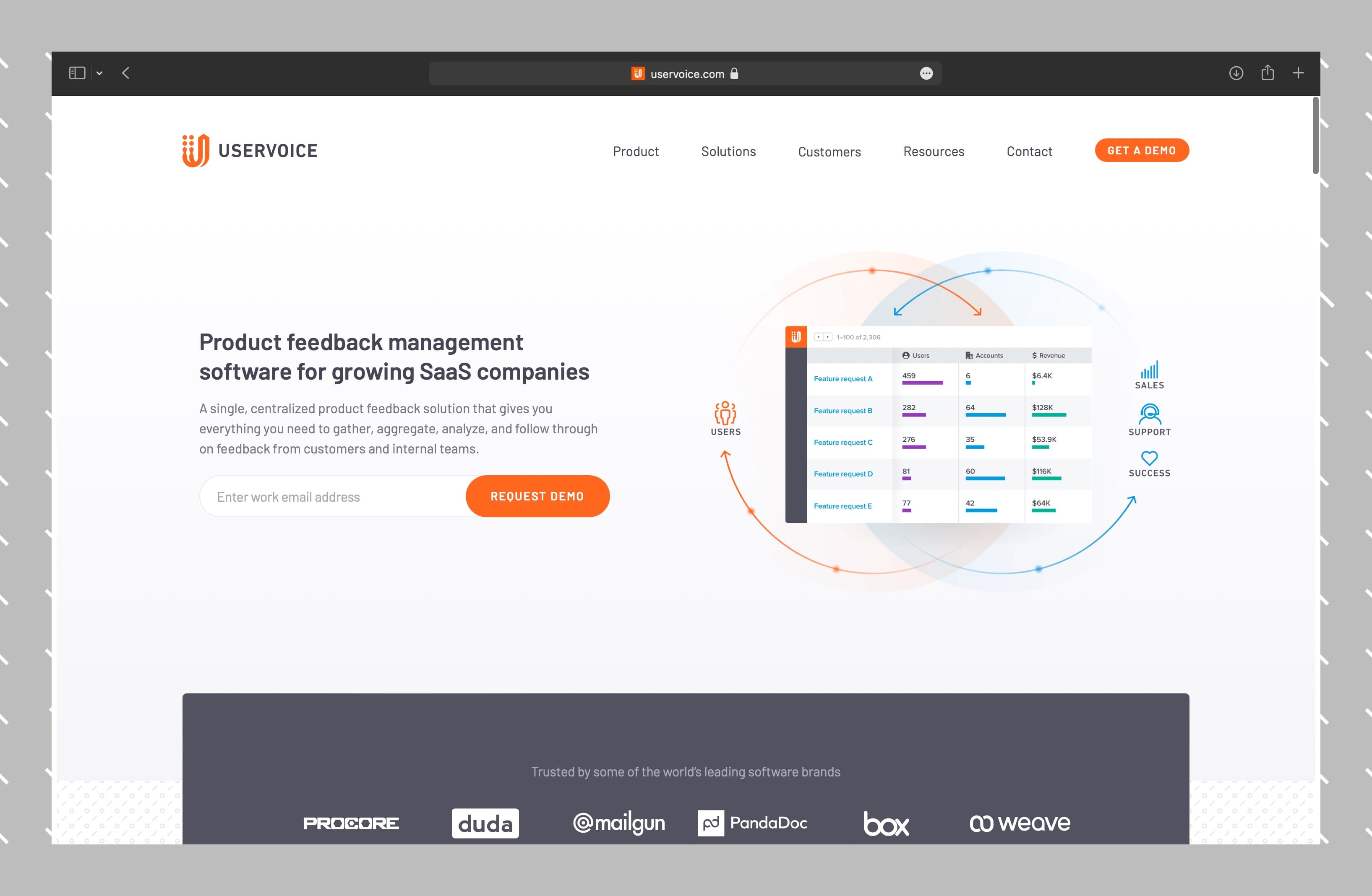 UserVoice has been there for a long time now. UserVoice is designed to work for large companies like Microsoft, who can have their customers provide feedback and vote on features on a hosted platform. UserVoice also helps companies gather feedback within internal teams as well.
Features:
Colelct feedback from Slack, Microsoft Teams and APIs
Analytics on user feedback
Publish product roadmap
Collaborate on feedback internally
Pricing:
UserVoice is an enterprise software. The pricing is designed for large enterprises who needs to manage customer feedback. The price of which starts at $2,000 and upwards per month. Read more about latest UserVoice pricing here.
---
10. ProdPad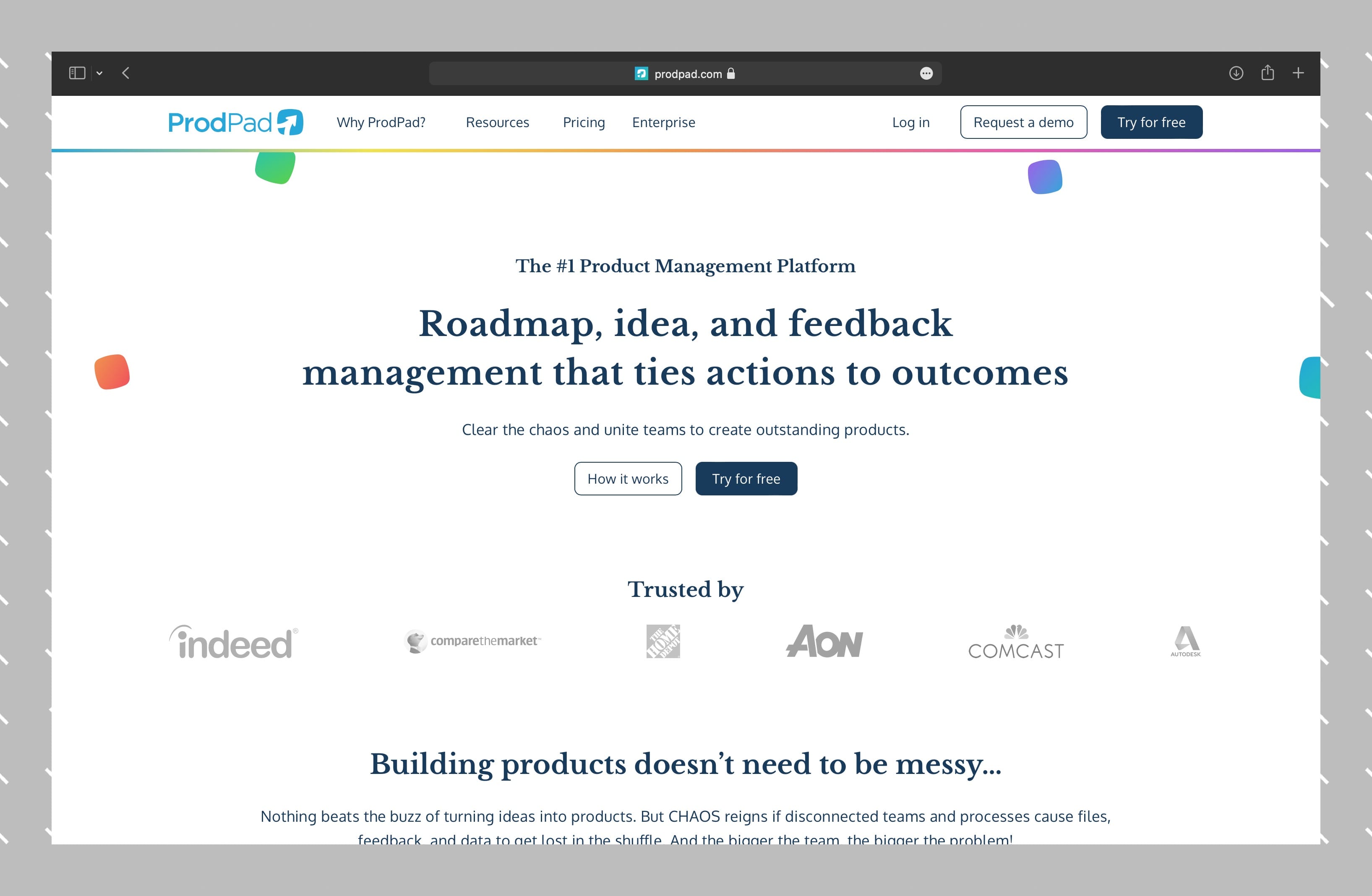 ProdPad is yet another Canny.io alternative which allows you to gather feedback via feedback boards, prioritize based on analytics, and build our a product roadmap with user inputs.
Features:
Idea management
Lean product roadmaps
Product idea analytics
Pricing:
ProdPad comes $25 per editor per month per module. So if you need to take advantage of product roadmap + feedback boards + prioritization, you will be paying $75 per editor per month.
---
11. Aha! Ideas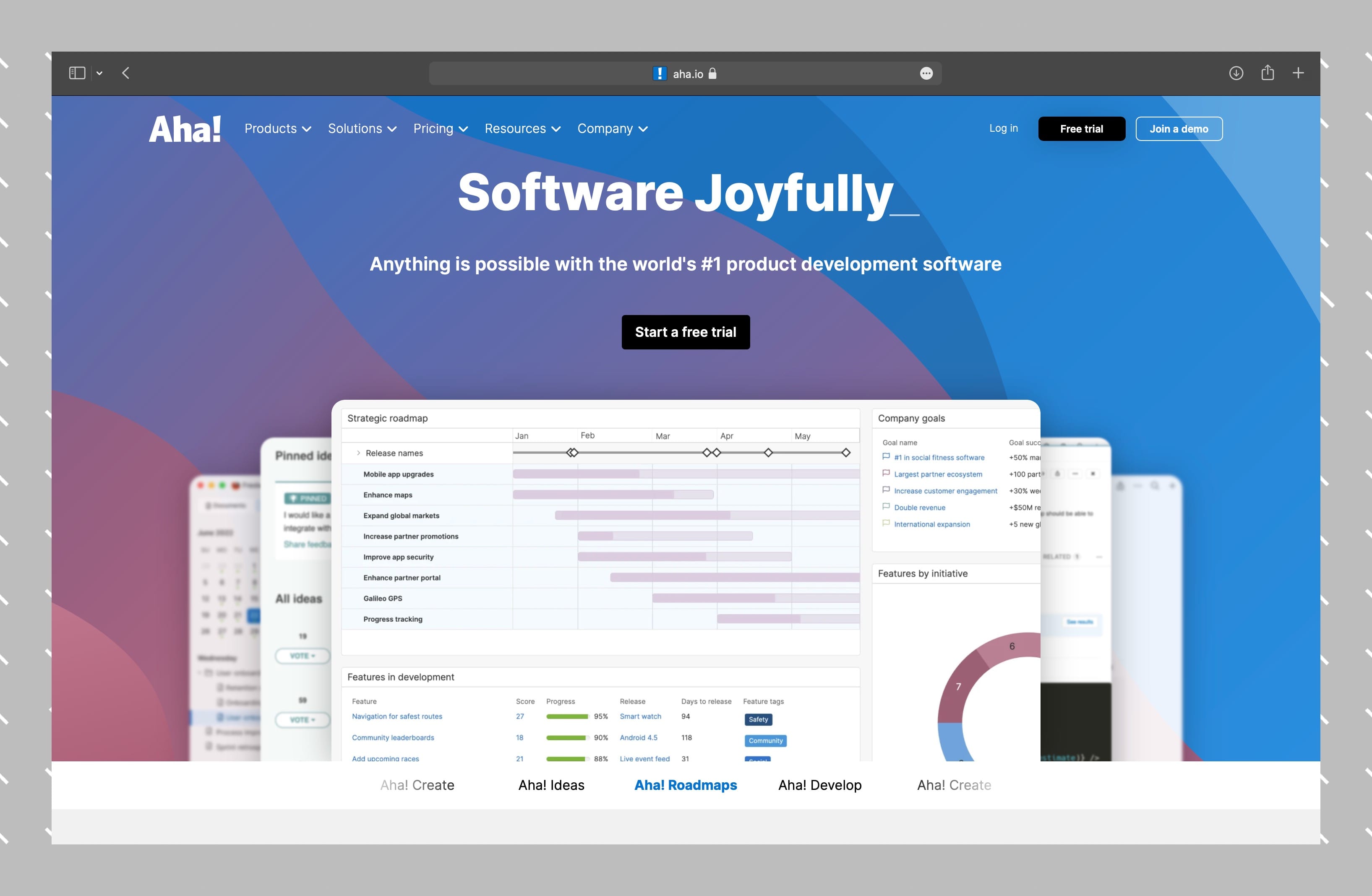 Aha! Ideas is a part of a larger suite of Aha! Software to help with product management. Aha! Ideas is ideal for large-scale companies with multiple product development teams.
Features:
Create feedback portal
Create status workflows
Analyze ideas & feedback
Update users via email
Pricing:
Pricing starts at $147 per month ($49/user/month for minimum of 3 users) for basic features.
---
12. Fider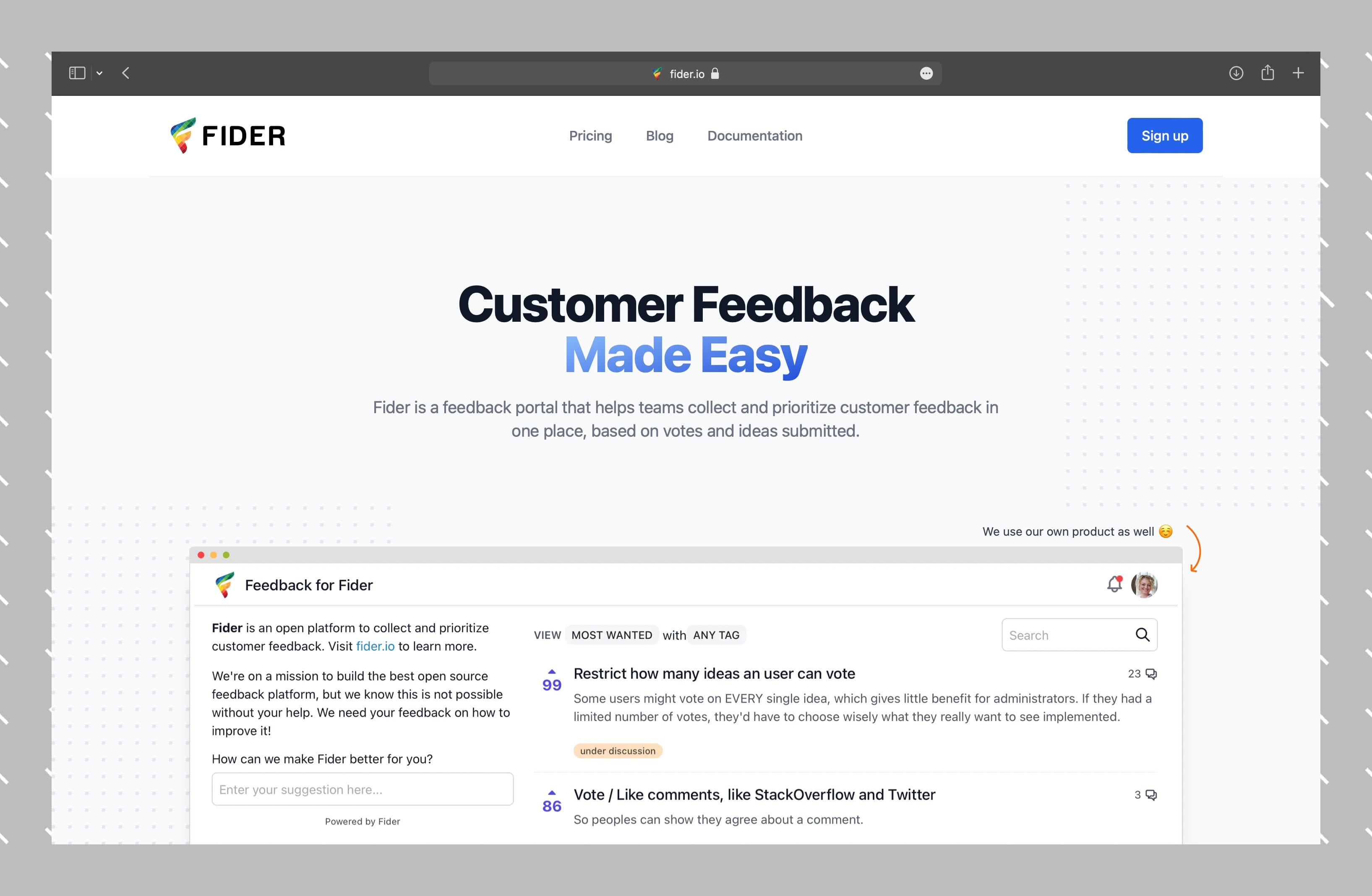 Fider is an open source feedback management platform which is not a hosted solution. If you need to use Fider and convinced with its features, you need to have your own hosting solution to maintain it.
Features:
User feedback boards
Open source and self-hosted
Community developed software
Pricing:
Fider is a free feedback management software which is open source for anyone to use and host. Fider Cloud is an upcoming tool from the Fider team, which costs $30 per month.
---
Which Canny.io Alternative to choose?
Now that you got a glimpse of the features other Canny.io Alternatives offer, you need to choose a tool that works just right for you. Here are some quick points to consider when choosing an app like Canny.io:
Does the Canny alternative comes with all the feature set?
Does the Canny alternative come at better predictable pricing?
Does the Canny alternative have good user experience and powerful dashboard?
If the answer is yes for all three questions above, you're all set.
With a feature set more than what Canny.io offers, featureOS is the most recommended Canny.io alternative that you can get started for free and start a paid plan for as low as $19/month. featureOS, being the best Canny.io alternative, hundreds of teams have migrated from Canny.io to featureOS.
Get your own featureOS account for free to experience an amazing user interface, powerful feature set, and predictable pricing. Signup now →
Last updated: December 5th, 2023 at 12:25:18 PM GMT+0